Caring for a poodle during pregnancy plays an extremely important role in helping the puppy to be born healthy. So pregnant poodle What should I eat? Can a pregnant poodle be bathed? Follow the article below to learn more when your poodle is pregnant!
How to Identify a Pregnant Poodle?
At each stage, Signs of Poodle Pregnancy There will also be differences. The growth phase of a dog fetus is divided into 3 stages. Each stage will last 20-21 days. Here are some signs that your poodle is pregnant, you can refer to:
State 1: During the first 3 weeks of pregnancy, pregnancy symptoms in dogs are rarely noticeable. However, some Poodles will start to experience morning sickness within a few days of weeks 3 to 4. Specifically, your pet will show signs of vomiting, fatigue, and loss of appetite.
Stage 2: Between the 28th and 35th day of pregnancy, the dog's belly will begin to grow. At this time the mammary glands also begin to develop and the nipples become larger. Moreover, at this stage, the morning sickness period has ended, and eating is relatively normal.
The third phase: At this stage you will definitely know if the poodle is pregnant. Because at this stage, the waistline of the "little girl" grows the fastest and most obviously.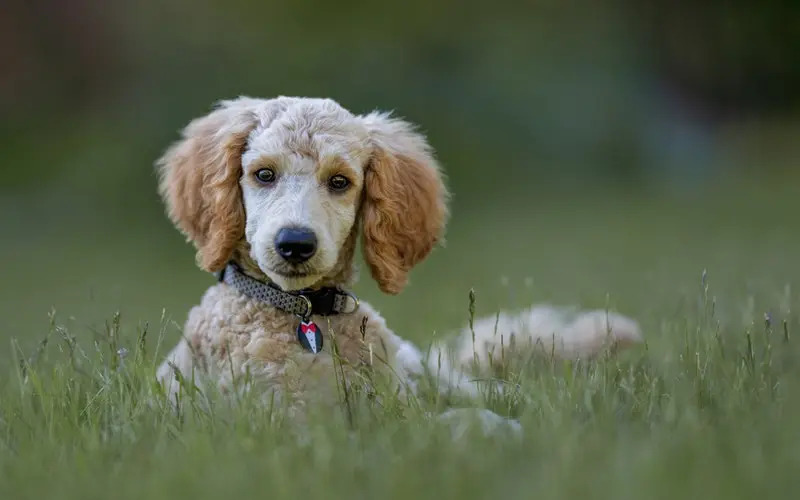 What should a pregnant poodle eat?
Diet is also an important factor in helping mother and puppies stay healthy during pregnancy. However, at each stage of pregnancy, mom's diet is also different. So what should a pregnant poodle eat for nutrition?
Here's a poodle's diet at each specific stage of pregnancy that you can refer to for a healthy pregnancy:
First half cycle
According to veterinarians, the amount of food a bitch eats during the first 4-5 weeks of pregnancy should be kept at a normal level. The nutrients in dog food should be balanced during pregnancy. Therefore, the most suitable ratio is about 29% protein and 17% fat.
In addition, in order to ensure adequate energy supply and avoid hypoglycemia in pregnant dogs, carbohydrate and fiber content should be supplemented for dogs. In addition, the addition of calcium needs to be from 1% to 1.8%, and the addition of phosphorus from 8% to 1.6%.
And you should also note that in the first half of pregnancy, the dog has already started showing symptoms of morning sickness, vomiting, and loss of appetite. So if this happens to you while your poodle is pregnant, don't worry too much.
Last stage of pregnancy
This is the time when the poodle needs the nutrients most to help the mother stay healthy and the baby born healthy. Unlike the first stage, a poodle pregnant during this stage needs to provide about 30-50% more calories.
Note that this number depends on the number of fetuses examined during the ultrasound. Also, don't forget to water your dog regularly at this time!
Stages of preparation for childbirth
In preparation for labor, the dog is usually very anorexic and doesn't want to eat anything. So don't force them too hard.
However, keeping a bowl of clean water next to the litter is very necessary during this time. Because this will help the bitch not become dehydrated and lose strength when there are signs of imminent birth.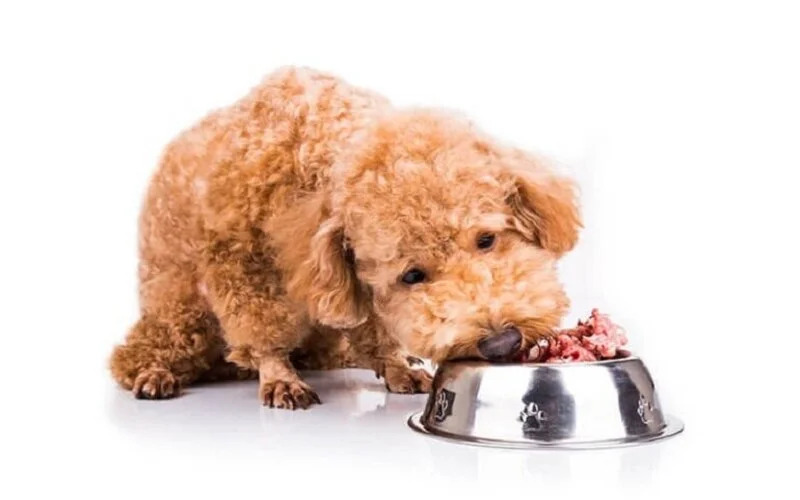 Scientific exercise regime for poodles during pregnancy
Giving your dog exercise and exercise will help the bitch be healthier. In addition, it helps stimulate the digestive system and accelerates blood circulation.
However, training also requires science, because poodles are very active and like to run with agility. If the exercise regimen is not controlled, it can affect the puppy in the belly.
For this reason, many veterinarians recommend exercise and exercise regimens for dogs during pregnancy, especially gentle exercise and avoiding strenuous exercise. You can take your dog for a walk in a quiet area for about 20-30 minutes every day.
Poodles should be limited in places where many other dogs congregate, as they can cause the dog to become restless and run around..
During the second month of pregnancy, poodles tend to eat more, sleep a lot, and be less active. However, you should also note that you should not let your dog rest during this time. Gentle exercise is so important to a healthier dog that you can't forget.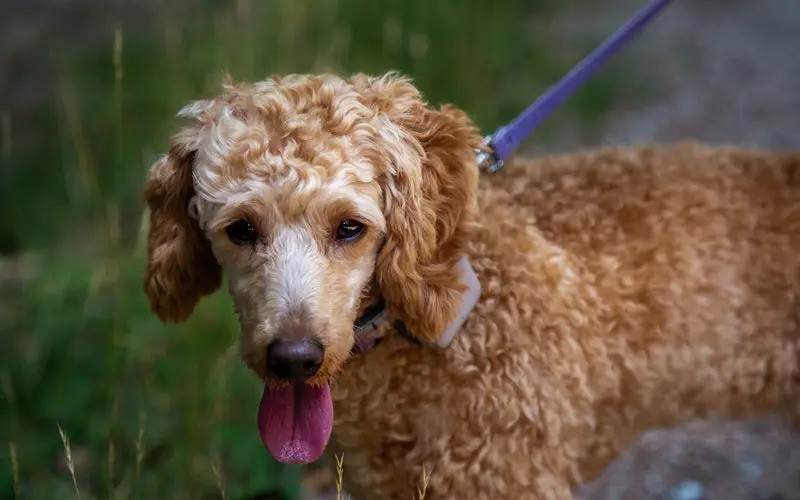 How long does it take for a poodle to get pregnant?Recognizing the Signs of a Poodle Puppies About to Give birth
The average gestation period for a poodle is 58 to 65 days. On average, it takes about 2 months for a dog to give birth. The time for a bitch to give birth lasts about 3-4 hours. Each puppy is born approximately 10-30 minutes apart.
When a poodle is about to give birth, some signs will appear, such as:
The lactation period before birth is about 3-4 days.
Began to see the phenomenon of fetal movement outside the abdomen.
The dog eats less, anorexia, and the abdominal muscles relax and soften.
Frequent urination, or even uncontrollable urination.
About 2-4 hours before birth, bitches will show symptoms such as:
Stop eating and breathe fast.
Occasional screaming and occasional urination.
Still, restless, constantly moving.
Start to see scratching to find the nest.
At the beginning of labor, the poodle mother will run back and forth many times, crying constantly. At this point, the dog will begin to push the back several times in a row.
Notes: During labor, regular observation of the bitch is recommended. If you see the dog is about to give birth, there are some unusual signs such as: severe pain, crying non-stop, the fetus is too big and still can't deliver for a few hours, the amniotic fluid has been drained but the puppy has not come out,… Then you should take your dog to the vet for immediate help.
Some Precautions for Poodle Pregnancy
Just like humans, pregnancy is the most sensitive period for animals. Poodles are no exception. Especially when the poodle is a small dog with poor resistance and frail body.
Caring for a normally difficult dog is now even more difficult when the dog is pregnant. Here are some dos and don'ts for pregnant poodles:
Take your pet to the veterinarian for regular checkups
Taking your poodle to the veterinarian for regular checkups can help reduce the risk of pregnancy during pregnancy. Taking the dog to the doctor in the early stages will help to quickly detect if the dog is pregnant so that proper care can be taken.
Taking a pregnant poodle to the veterinarian for a follow-up visit around day 30 of pregnancy will help to check the health of the mother and puppy. So, the doctor will look at the puppy for any disease or defect?
In addition, you should also take your dog to the vet for vaccinations during pregnancy to avoid introducing some dangerous diseases to the puppy. In addition, depending on the test results, the doctor will give the female dog some other supplements, so that the fetus in the womb can develop fully and healthily.
Keep your dog clean
Can a pregnant poodle be bathed? Many people ask this question when their pet is pregnant. Pregnant dogs should still be bathed and cleaned, according to veterinarian recommendations, to help the bitch be in the most comfortable spirit.
However, if the body is still weak after giving birth and cannot have immediate access to water, do not bathe the dog for the time being. However, you should also wipe your mother's body with a warm towel to ensure maximum comfort.
Have enough supplies for the birthing process
Having enough supplies for your family to welcome a new member is something your family will need to do during a poodle pregnancy. First, you must prepare an enclosed room for the poodle to live in after giving birth and after giving birth. Note that you should choose a quiet, discreet, well-lit room.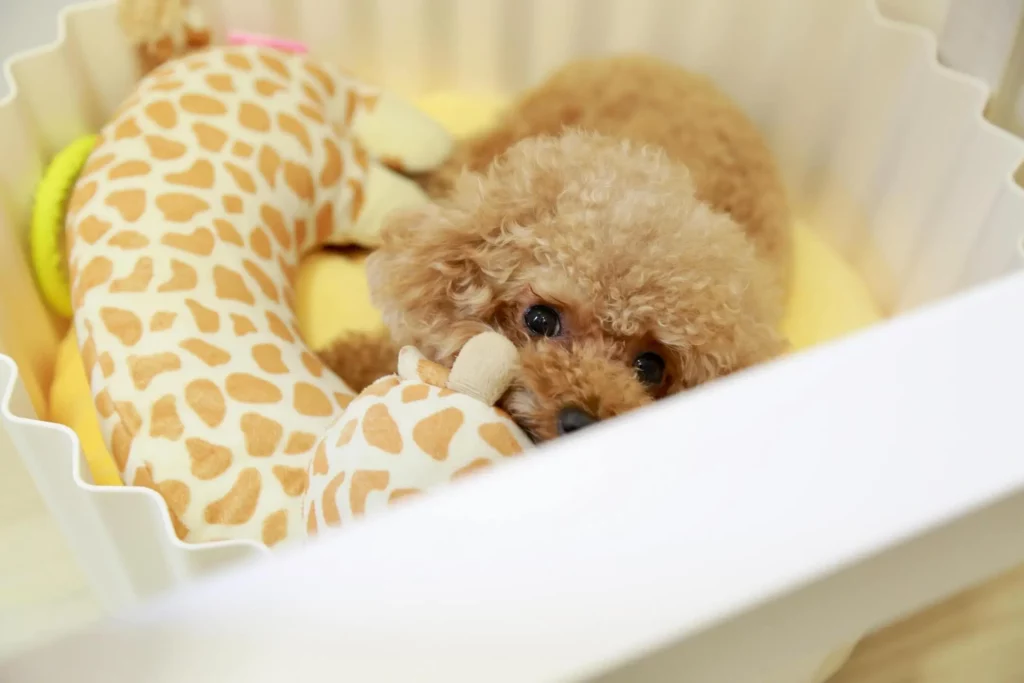 Tips for Helping Poodles Avoid Miscarriage or Premature Birth
Miscarriage or premature birth is not uncommon in bitches. However, you can still completely reduce your poodle's chances of miscarriage or premature birth. Apply some of the tips we reveal below!
When a poodle is pregnant, it is advisable to limit the dog's excessive movement, running, and jumping.
There is no inbreeding or inbreeding.
Learn how to care for a pregnant poodle to give mom the best possible living environment.
Pay attention to the living space of the bitch, specifically, do not let the dog live in a hot, stuffy place, …
Here's some info on how to take care of it pregnant poodle but good market Want to share with readers. I hope that through the sharing in this article, you can help your dog get pregnant and give birth naturally!