For long-term dog owners, the situation is obvious poodle vomiting This is common, not uncommon. Therefore, this condition is not too dangerous for the dog's health. However, this can be a real concern for dogs with chronic vomiting. Let's find out why poodles vomit and how to fix it in the article below!
Why do poodles vomit?
Understanding the root cause of your dog's vomiting is critical to finding the best solution. Here are some possible causes of poodle vomiting:
Dogs have many medical problems such as gastritis, worms, spirochetes, etc.
Poodles vomit due to eating fish bones, chicken bones, duck bones, pig bones, etc.
The dog's stomach is irritated as it eats indigestible food such as grass, leaves, flowers, and fruit that can lead to poisoning. Or sometimes dogs eat spoiled food, too greasy food, expired food.
Because the dog eats too much food in one meal or eats it too fast. This prevents food from being digested and causes bloating and reflux into the mouth.
The dog's diet has changed. So at first, the dog can't adapt and tolerate the new food. This is why dogs vomit.
It was so hot that the dog suffered heatstroke and vomited from there.
Dogs vomit because of motion sickness, motion sickness.
Common symptoms of vomiting in dogs
Poodle vomits and defecates
This is not too surprising, especially in puppies that are a few months old, it is extremely common. Because at this age, a dog's digestive system is not perfect, resulting in frequent vomiting and bowel movements.
One thing you really need to worry about is if you see your dog going out with worms and showing signs of anorexia, refusing to eat, it means your dog has some kind of worm infection. In this case, you need to buy deworming medicine to deworm your pet.
If your poodle has blood in the stool and vomits, the disease is already very serious. Currently, self-treatment at home is not considered an effective and safe solution. So, hurry up and take your pet to the veterinarian for a timely check-up and treatment!
Poodle vomiting white foam
The white discharge when a dog vomits is usually saliva, which is milky white and in the form of mucus. In addition, the dog will go out with foam, sticky, and give off a very unpleasant smell.
Some of the main reasons why poodles vomit white foam include:
The body contains harmful parasites or bacteria (usually the main cause is worms).
Puppies are infected with dangerous diseases, especially Care and Parvo-2. These are two dangerous diseases of dogs for which there is currently no cure.
Canine poisoning, gastrointestinal infection, cholangitis, pancreatitis or enteritis.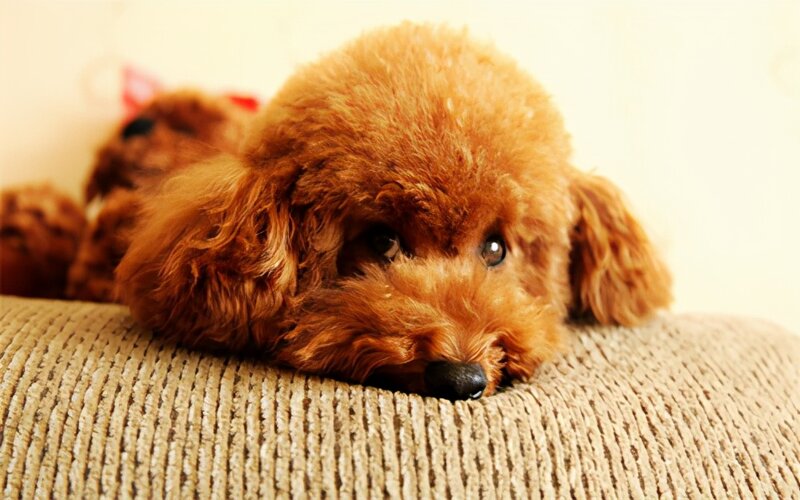 Poodle vomits yellow liquid
How to tell if a poodle is vomiting yellow fluid is very simple. You just need to look at the fluid status of the dog's vomiting. So in this case the fluid will be yellow, liquid and have an unpleasant fishy smell.some main reasons Poodle vomits yellow liquid It can be said like this:
Dogs swallow hard and foreign objects that are harmful to the digestive system.
A dog's diet is deficient in nutrients for days on end. Since then, poodles have been deficient in vitamin B1.
Accidentally ingest food that has been stored for a long time, rancid or mixed with rat bait.
This dog has a cold and pneumonia.
poodle vomiting blood
Compared with the above cases and symptoms, dog vomiting blood is the most dangerous case, which directly threatens the life of the dog. In this case, the poodle's body temperature is abnormally high. At this time, the dog's lower abdomen also began to show signs of bulging.
If you experience this phenomenon, you need to take your poodle immediately to the nearest veterinary clinic to determine the cause and treat it promptly. If not detected and treated in time, it will seriously affect the health of the dog.
Some Ways to Overcome Your Poodle's Vomiting Situation
There are different remedies for each cause of vomiting in a poodle, specifically:
How to treat when a poodle vomits
Depending on the severity and cause of your dog's vomiting, you'll get prompt treatment. For mild cases, you can treat yourself entirely at home with some habits and dietary adjustments.
If the condition is serious, it is best to take the poodle to a veterinary clinic for accurate diagnosis and prompt treatment.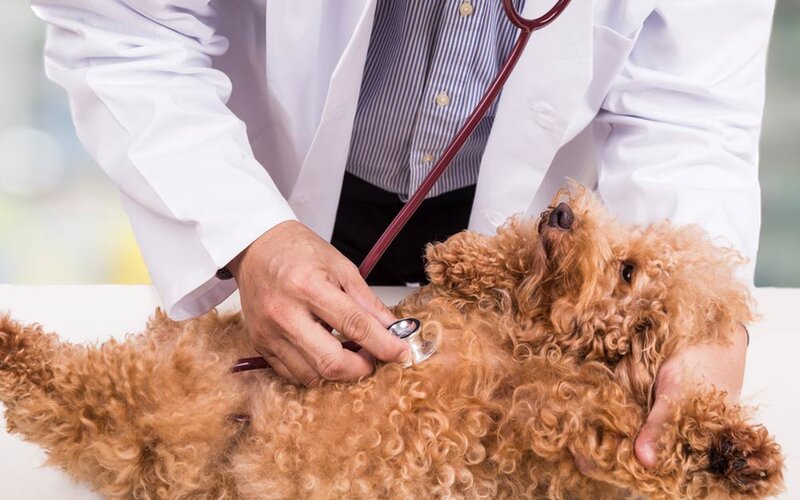 If your dog is vomiting more than once a day or for more than 24 hours, it is best to take the puppy to the veterinarian. The occasional dog vomiting mucus may not be cause for concern.
However, if your dog sheds mucus on a regular basis, it can really cause headaches.
How to care for a poodle when it vomits
One of the main reasons poodles vomit is their diet. Therefore, you should be careful not to feed your dog within 12 hours of vomiting. Instead, give your dog water to protect the digestive system and avoid dehydration.
Also, be careful not to feed your dog rancid, low-quality, or expired food.
After your dog stops vomiting, you can return your poodle to a normal diet the next day. Also, when your dog vomits, he tends to get tired, so you should give your dog gentle exercise every day.
If your dog is shaking, place an extra blanket or heating pad over the dog. And it's also important to keep your dog's body warm. Also, don't forget to clean out the kennel to give them the most comfortable and comfortable living space.
Measures to prevent vomiting in poodles
It is difficult and impossible to completely prevent a dog from vomiting. However, you can still prevent and reduce the frequency of vomiting in your dog. So what are the measures?
Here are some preventive measures to prevent vomiting in poodles that we would like to share with our readers:
Sudden restriction of dietary changes as well as the poodle's diet. In addition, it is important to provide your dog with a nutrient-dense daily diet.
Do not let your dog chew, swallow or eat toys and foods that are harmful to their digestive system, especially bones.
To keep your dog from eating dirty, rancid food on the street, you can use a muzzle.
Take your dog for regular checkups and vaccinations.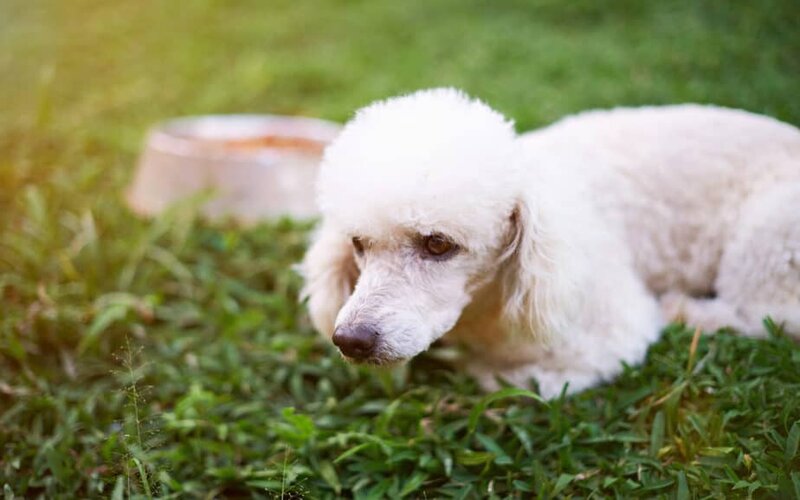 Here's some info on why and how to fix it poodle vomiting We want to share with our readers. I hope the sharing in this article can provide you with a lot of useful information to help your puppy always maintain optimal health.