When hamster is born, must be the joy of many breeders. Ready to welcome new members? The article below will give you all the information about hamster breed more confident to take care of the "rat" family.
Recognizing the Signs of a Pregnant Hamster
To better care for your hamster giving birth, you need to know the signs of a hamster pregnancy, as follows:
Hamsters change their diet
In the first trimester, hamsters tend to eat and drink more water to provide adequate nutrition for raising their babies. However, this indication is still not reliable enough to be certain that the hamster is pregnant. Because they may also eat more due to stress or illness.
Hamsters become more aggressive and stressed
Once pregnant, hamsters continue to store food and build their own nests. They always show stress and irritability with their hamsters. If you look closely, the hamsters seem to be slower and less active than usual.
Significant changes in the abdomen
This is a clear sign of late pregnancy. You may notice that their abdomens are swollen normally due to pregnancy. The mice also had enlarged nipples to produce milk for the young.
Males are not allowed to mate
This is also a sign of pregnancy in a hamster. Some hamster species like the Robo usually don't allow males to mate during pregnancy. So you can watch this problem to see if your pet is pregnant.
These are the typical signs of a hamster giving birth. However, these signs will also be different for each different type of hamster. Even some hamster breeds are too small to be spotted. So, to make sure your "pet" is ready to give birth, take it to your veterinarian for a checkup.
How many babies do hamsters give birth to?
This must be a question of particular interest to many owners every time a hamster gives birth. On average, a healthy female hamster can give birth to about 7 to 20 babies per litter. Syrian hamsters can give birth to 8 to 26 pups per litter. Russian hamsters also give birth to 4-14 pups at a time.
Most current hamster breeds usually only give birth to about 6-12 children per litter. Environmental conditions, nutrition, weather, etc. can also affect the number of offspring in a litter due to the breeder's reproductive restriction program.
Hamsters, for example, have fewer babies in cold weather to ensure the best possible development. During the winter, hamsters leave more males than females. Since males are usually larger, they are more likely to survive. Also, being housed in captivity with other hamsters can also affect their ability to reproduce.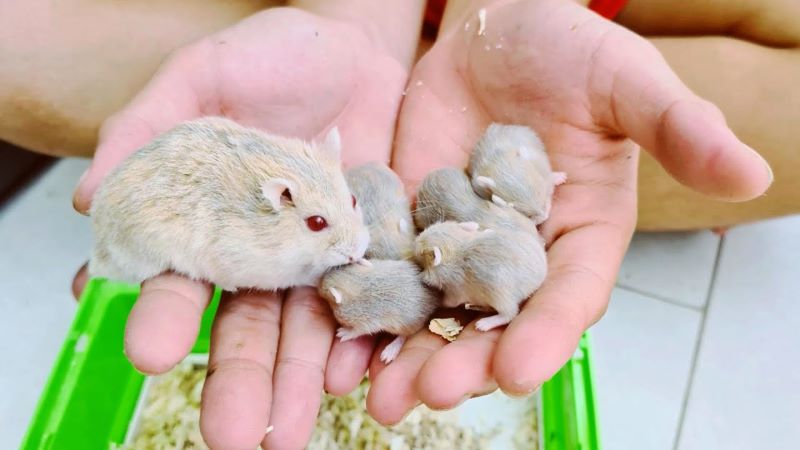 When are hamsters born?
As we all know, hamsters are fertile animals. They usually mature very early. For women, the age of maturity is 4 to 8 weeks. Males are usually slower, around 8 weeks. They start breeding their first litter at this stage. However, pups tend to be frail, and female hamsters are prone to stress, depression, etc.
How many times a year do hamsters give birth? Hamsters have a breeding period of 2 to 15 months, with a litter every 2 months. However, you should only give birth to mice twice a year to ensure the health of both mother and pups.
So, what is the best time to have a hamster? The best time to keep a hamster is between 5 and 12 months old. At this stage, the organs are fully developed, the resistance is high, and the physical strength is good.
However, a 1-year-old hamster will enter a stage of aging and its health will gradually decline. If you give birth at this time, nursing is quite difficult. Mother mice often have a hard time giving birth, and even both mother and child die. Hamsters should stop breeding when they are 2 years old.
Share the experience of raising hamsters for the most effective childbirth
Raising a hamster to have a baby is not easy and demanding, as this is a particularly sensitive time for children. The following experience in caring for a hamster giving birth will help you.
Preparing for the birthplace
Hamster breeding areas need to be comfortable, quiet, clean and poorly lit. You should replace them with new pads and add plenty of food and water so the mother hamster can feed her baby for the first week.
Provide adequate nutrition for hamsters
Hamsters are full of energy when they are pregnant and giving birth. Therefore, farmers need to increase their food intake, cheese, milk, protein sources from meat, fish, eggs, etc., cooked but not seasoned. This helps ensure that the baby hamster has enough breast milk to help the mother recover better while preventing the mother from eating the baby.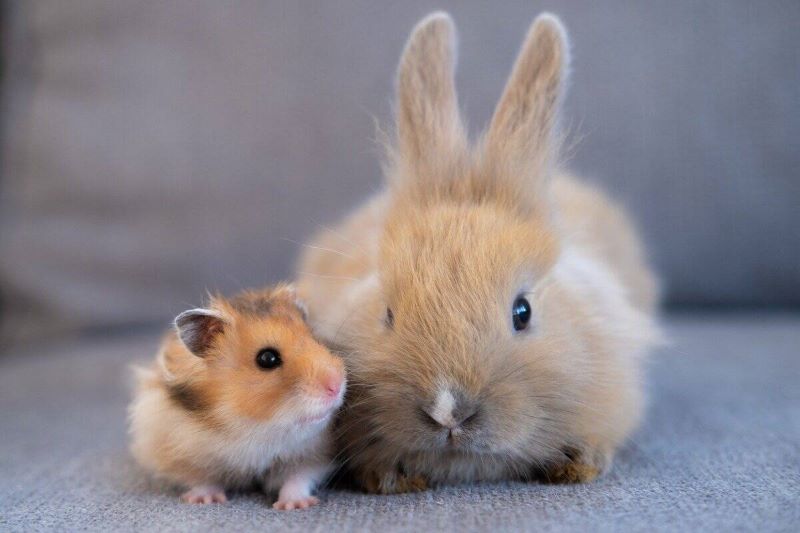 Do not touch the hamster for the first few weeks after birth
Hamsters usually give birth during the day and you can hear the screams of their young. However, breeders should not touch them for the first week. You let the hamster mother fully take care of the baby at this stage.
Catching and touching baby hamsters too early can cause them to smell bad and cause the mother mouse to reject or eat them. You should only intervene if you see a baby being born or a baby dying. At the same time, do not move or disturb their accommodation during the first month after birth, so as not to worry and fear the hamster.
Hamsters keep quiet while giving birth
In the wild, hamsters are always careful to prepare their nests and keep them away from other animals. Therefore, it is also necessary to prepare a quiet and safe "delivery room" to welcome the hamster.
Hamsters usually give birth within a few hours. When the mother mouse is giving birth, she should avoid loud noises, touch her hands, and avoid letting cats and dogs approach, so as not to panic the hamster.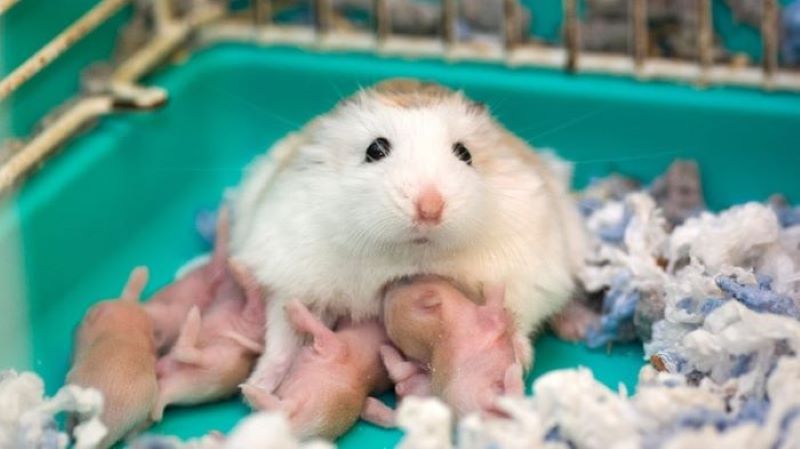 Dos and Don'ts to Remember When Raising a Hamster for Birth
You want your hamster to be healthy before, during and after birth. To do this, farmers need to keep the following considerations in mind:
Strengthen hamster postpartum prevention
Most postpartum hamsters tend to get sick easily, especially those that give birth late. The more litters a hamster has, the poorer its health and the more likely it is to suffer from gynecological diseases.so if you want to Breeding hamsters They need to be taken to the doctor after each birth for good prevention and treatment.
Hamsters are "stupid mothers"
Hamsters are very clumsy when it comes to caring for their babies. They often forget their children along the way. Therefore, you need to observe the mother mouse regularly. When the pups are 4 weeks old, the mothers are separated from the mother for easy care.
Promote postpartum recovery
It is very important for your hamster to recover after giving birth. You'll need to add protein, vitamins…so they'll be healthy and ready for the next spawn in no time.
In a nutshell, here's everything you need to know about your hamster giving birth. It is important to recognize the signs of pregnancy and nursing during and after delivery. Hopefully these shares will help you welcome other happy hamster families.